Official Bullet Catch Injured

Most dangerous feat in magic! BulletCatch as done by famous American Magicians David Blaine-Penn & Teller-Criss Angel- Dorothy Dietrich, others, etc.
Injured by the Bullet Catch
The following are just a few of the many who have been injured doing the bullet catch.

KIA KHAN KHRUSE (1818) Shot by spectator, not killed)

---

JEAN HUGARD, Australian magician, featured the routine using modern rifles from 1906 and, while his method was clever, he nevertheless suffered injury when a mischievous assistant slipped some shot pellets into the gun. Hugard set out around the world performing under various names. Before settling in Brooklyn NY, Hugard performed as Oscar Kellmann, Chin Sun Loo, Ching Ling Foo, and Jean Hugarde. Aside from being a premier cardsman, Hugard was known for his bullet catch routine called "The Great Rifle Feat". He was the first to perform it with modern ammunition. After moving to the United States in 1915, Hugard both owned and performed in a magic theater in Luna Park (at Coney Island) from 1919 to 1929. Jean Hugard eventually settled into writing and publishing, editing more than 30 books on magic. The Encyclopedia of Card Tricks is one of the true classic publications of magic. Hugard also published Hugard's Magic Monthly from June 1943 to April 1965


---
| | |
| --- | --- |
| MAURICE ROOKLYN 1934, Australian magician, survived being hit in the shoulder by a bullet while performing the bullet catch. After this event he wore a chainmail vest under his shirt for safety. When he was later hit in the scalp by another bullet he decided to remove the bullet catch trick from his repertoire. | |
---
---
Magician BEN ROBINSON after meeting with famous American magician Dorothy Dietrich and others researching the bullet catch for a book, ending up doing it, as he probably planned. it is now a rare collectors item, "Twelve Have Died!"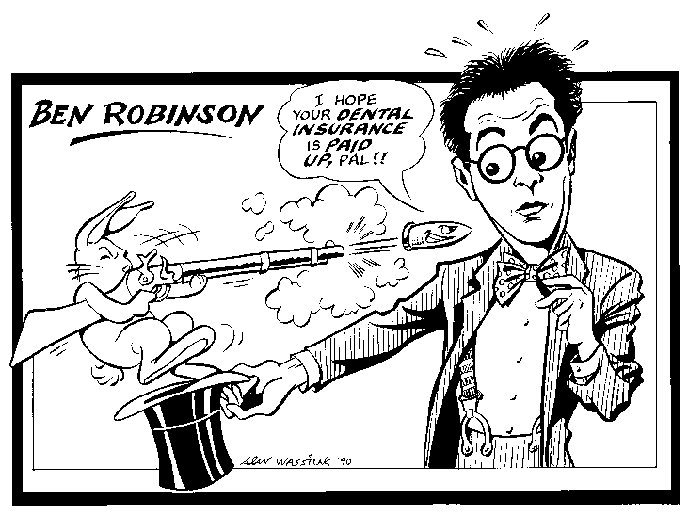 When he did it on Houdini's grave, the impact of the shot made his head fall back against Houdini's granite nose, which then propelled him down the grave's steps, causing him to lose his four front teeth.
1993. Wounded in the left palm of his hand at The Commerce Card Casino in California. Several stiches.
---
| | |
| --- | --- |
| MILBOURNE CHRISTOPHER did variety magic specials early on, on national TV. Milbourne Christopher performed in the first magic special on national TV. Festival of Magic, hosted by Ernie Kovacs, was the first network TV magic special, broadcast on May 27, 1957 on NBC-TV. Milbourne Christopher produced and performed a bullet catch on the show which was the final episode of Producer's Showcase.He promoted his specials with a grand effect at the end, making people stay tuned to the end of the show. In this photograph he's closing doing the bullet catch. | |
---
Steve Cohen, wounded by a glass shard (United States, 2012)
It was revived for a TV special in 2012, by magician Steve Cohen.
The 'curse' was finally going to be ended. On a New York City shooting range, with a small audience in attendance and cameras taping every second of the event, Cohen took his place in front of a glass plate, and a guy with a Glock 9 mm about 30 feet away. When Cohen dropped a handkerchief, it was the signal for the shooter. BANG. Screaming in pain, Steve Cohen hit the floor, and was quickly taken to the hospital He had been hit by glass shards from the panel, as the bullet shattered it. He ended up bruised, and swearing off the trick.
"THE BULLET CATCH" TRICK sent him to the hospital, too. Despite warnings he received from magicians, he went ahead. "Unfortunately I sustained an accident that left me with a chest wound that has still not healed. I am disgusted and regretful that I did not take more precautions to prevent this injury from occurring. Yet I remain grateful that I did not get killed. The shooter and I were positioned 20 feet from each other on the open floor of an underground firing range. A sheet of tempered glass was hung at the 10-foot mark, equidistant between us. The glass is present to demonstrate that a bullet is actually fired from the gun. We used tempered glass because it beads upon impact instead of cracking into larger shards. The beads are supposed to fall straight down. During my performance, the shooter fired his Glock 19 at my face and the glass shattered as expected, with one exception. One bead of glass flew toward my body and pegged me in the chest, above my right pectoral. It carried a strong impact but did not pierce my skin. The glass pellet grazed my rib, passed under my outstretched arm, and continued its path behind me."
The only gear I wore was a pair of protective goggles. I got off lucky with a hematomaŅa blood tumor that expanded and swelled over several weeks. My chest turned colors from black and blue to deep purple to yellowish-green. It was awful, and it hurt every time I moved. However I was extremely fortunate. If the glass bead had impacted me just eight inches higher, it could have penetrated my throat and killed me. Ironically, my director was thrilled that I was injured. As we drove to the hospital, he said, "This is great. This is really Dr. Edwin Dawes discusses Chung Ling Soo great. Do you have any idea what kind of footage we got?" I was slumped over, writhing in pain, and he was gloating trium- phantly over the unexpected footage he captured. If I hadn't been hit, and if the trick ended as originally planned, the cameraman was instructed to run forward to me after I opened my mouth so that the marked bullet could be instantly verified between my teeth. However, since I was knocked down by the force of the glass impact, the cameraman captured an entirely different scene altogether. He rushed in, keeping the camera running, and found me on the floor, spitting out the signed bullet as I grabbed my chest. The final televised scene was unscripted and edited together from footage shot at the actual accident scene. The result was a dramatic, unforeseen event. I have no further plans to perform "The Bullet Catch." It was a once-in-a-lifetime experience that I'll never forget. The nerves in my chest have still not healed, and I can feel a dull sensation below the skin's surface when I touch that region of my chest.
https://www.chambermagic.com/wp-content/uploads/2019/06/Lost-Magic-Decoded-72-87-Genii-Jan-2013.pdf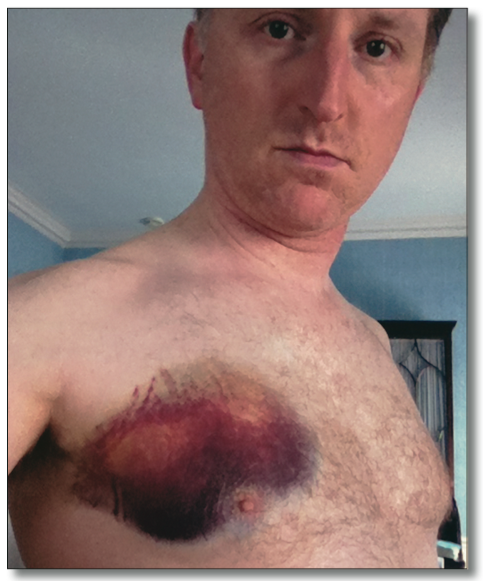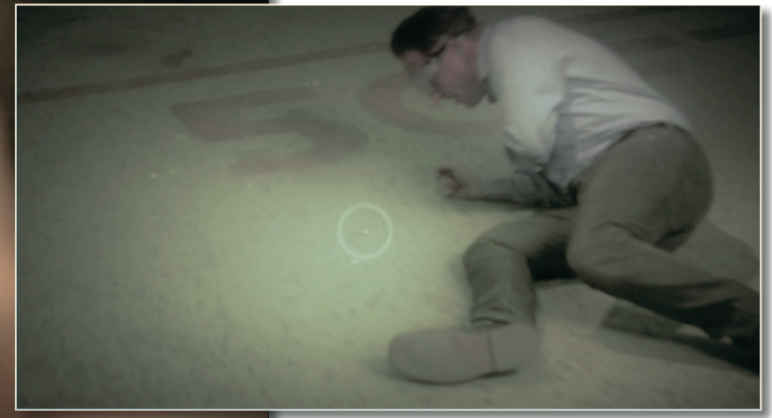 ---
This video has Blaine doing the Bullet Catch which he claims is real. This video starts with Annemann and Dorothy Dietrich doing the Bullet Catch. It is about 30 minutes long. Near the end he is taken to the hospital in an ambulance, where they say he has a throat injury. .
Also more David Blaine at bottom of Page Succeeded & Lived From 1900
The curse continues!
---
Things to do

Learn about magic's most dangerous stunt | Website of Scranton Fun Magical Mystery Entertainer Dick Brookz | Things for bus groups to do. | Book a room in any city in the world | Various informative links | Take a cruise | Guide to cruises | One of the world's leading famous female magicians | Poconos online magazine of things to do | Where to go on a Honeymoon | Discounts for Honeymoons, Caesars, etc | Houdini Information World's only Museum entirely devoted to Houdini | Site dedicated to the Houdini Seance | List of magic events | New site for magic auctions | Calendar of magic happenings | Dedicated to NY's Magic Towne House. | Travel the USA | Auction site dedicated to magic | mystery bus ride | mystery bus tour | mystery bus trip | Visit with a leading mystery entertainer | Spend a Mystery Night out | originalhoudiniseance in NY | petfoodrecipes | Boating in the Poconos | Pocono Mountains Directory | Pocono Mountain Index | Coupons for Pocono Mountains attractions | Discounts in the Poconos | Poconos Leading Guide | Getaway to the Pocono Mountains | Getaways in the Pocono Mountain Region | Discount Honeymoons in the Pocono Mountains | Honeymoon int the Poconos Mountain Region | Comprehensive directory of Pocono Mountain NE PA Hotels | Restaurants in the Mountains of the Poconos | Pocono Honeymoon Information | The first auction site in Canada | http://Everything important to do in Scranton PA | Find and Reserve throughout the world | Comprehensive listing of magic events throughout the world | Haunted events throughout the world that run most of the year. |

Web Sites of Interest

bulletcatch, magic's most dangerous | busgroups | CityDirectories | crosslinkz | Cruise Fun Guide | Cruise Line Guide | Dorothy Dietrich, Leading famous American female magician | Guest Magazine | Honeymoon Discounts | Houdini Museum Archives HoudiniShowspot | Houdini Seance | Magic Calendar | Magicians Auction | Magicians Calendar | NY's Magic Towne House | MagicUSA Travel reservations | Magic USA auctions | Mystery Bus Ride | Mystery Bus Tour | Mystery Bus Trip | Mystery Entertainer | Mystery Nights | Original Houdini Seance in NY | Pet Food Recipes | Pocono Boating | Pocono.net | Pocono.org | Pocono Coupons | Pocono Discounts | Pocono Fun Guide | Pocono Getaway | Pocono Getaways | Pocono Honeymoon | Pocono Honeymoons | Pocono Hotels | Pocono Restaurants | Pocono Rooms | Poconos Honeymoon | PolarAuctions | Psychic Evening | Psychic Night | Psychic Theater | Psychic Theatre | Anime site | Scranton, PA | Supernormalist | Where To Find Travel | Comprehensive listing of magic events throughout the world | Haunted events throughout the world that run most of the year. |

© 1993 - by magicusa. Except for reviews, no part of any of this document may be reproduced or quoted in any form, without written permission by the authors. This does not include a limed amount of quotes that are credited. The graphics have been retouched, computer enhanced and resized by the authors. Here is our email address. We are more likely to get it if you put the subject in Caps.



Address: 1433 N. Main Ave., Scranton, Pennsylvania (PA), 18508