BulletCatch.Com
Official Bullet Catch Site. 20 Deaths. Most dangerous feat in magic! BulletCatch explaination & presentation methods & dangers, deaths, killings, etc. Bullet Catch as done by famous Magicians Worldwide including Americans David Blaine-Penn & Teller-Criss Angel- Dorothy Dietrich, Chung Ling Soo, others, etc. WARNING! Do not attempt the bullet catch. As you will see from this webpage, this is a very dangerous undertaking, no matter what the method, or trick or what precautions are taken.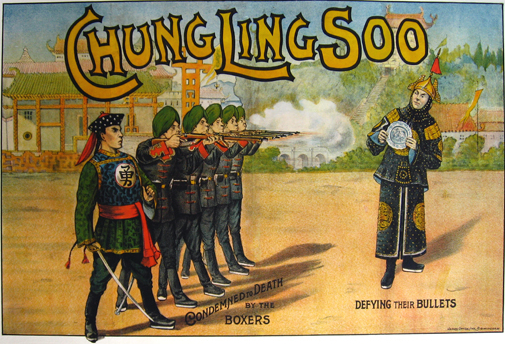 - -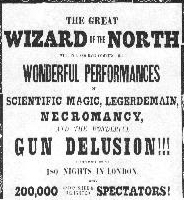 - -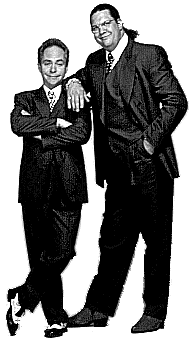 - -
- -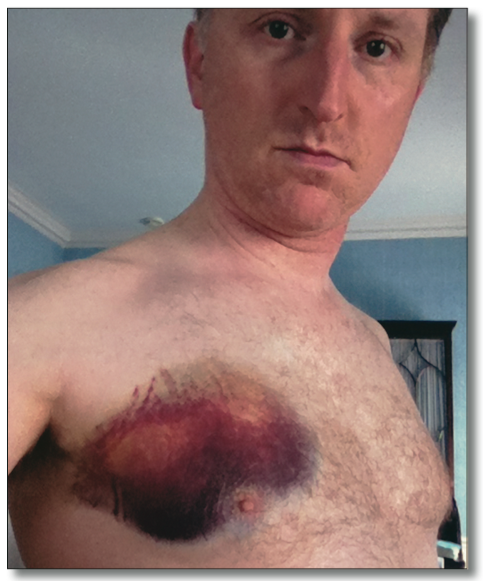 - -

Succeeded. Pre 1900
RECENT NEWS! 2017 Death! Pedro Ruiz III - Monday evening, June 26, 2017. 19-year-old Killed Attempting Bullet Catch trick gone wrong for YouTube! March, 2018, his girlfriend Monalisa Perez, 22, pleaded guilty to second-degree manslaughter & was sentenced to 180 days in jail, along with a lifetime ban on possessing a firearm or receiving payment for telling their story. https://kfor.com/2018/03/17/woman-who-fatally-shot-boyfriend-during-youtube-stunt-sentenced-to-180-days-in-jail/
She was 7 months pregnant with their 2nd child. She fatally shot her boyfriend, making a video they hoped would go viral.
It failed Monday evening, June 26, 2017, when the Minnesota woman shot Ruiz in the chest while he used a hardcover encyclopedia to stop the bullet. She called 911 herself. She said he convinced her it was safe by showing her a book that had stopped a bullet. He put up 2 cameras to video the stunt, hoping to attract YouTube attention.

Perez took a .50 caliber Desert Eagle pistol, "one of the world's most powerful semiautomatic hand guns," & fired at her 22-year-old boyfriend from about a foot away. Ruiz was killed by a single shot to the chest. Ruiz's aunt, Claudia, later said they trying to acquire more YouTube viewers.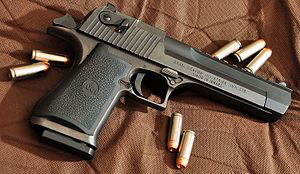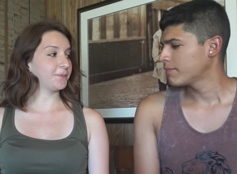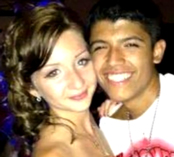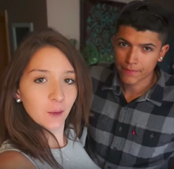 The video has not been posted, & is held by the police as evidence. Perez is charged with second degree manslaughter & could result in up to 10 years in jail & a $20,000 fine.
She posted $7,000 cash bail & was released late Wednesday afternoon, cannot possess firearms, needs to notify her attorney of her whereabouts & has to wear a GPS monitor, & is due back in court on July 5, 2017. Photo YouTube.com
---
MOST INFAMOUS
CHUNG LING SOO
<
| | |
| --- | --- |
| | Killed by a faulty trick gun used in the Bullet Catch. In London at Wood Green Empire Theatre March 23, 1918, he was doing the bullet catch trick, his most popular act, "Condemed to Death by the Boxers". He didn't have the gun cleaned out properly. This caused a buildup of gun powder in the lower ramrod tube, which gave it enough force to fire the bullet into his chest. Breaking character, speaking english on stage for the first time, he said "Oh my God, bring down the curtan. Something has happened." He died the next day in the hospital, March 24. Houdini's birthday! In the film The Prestige he's played by Chao-Li Chi, & is Colin Firth's, alter ego Wei Ling-soo in Woody Allen's Magic in the Moonlight. |
For a review of book & other info click picture
---
EARLY BULLET CATCH CAUGHT ON FILM
TED ANNEMANN 1942 Perfected his own version of the bullet catch illusion, performing the effect outdoors. Accounts of his performance describe the feat as a dramatic effect wherein Annemann would collapse from the apparent force of the gun & then produce the bullet from his blood-drenched mouth. In 1934 he began publishing the famous magazine The Jinx, for magicians. The magazine was focused on mentalism, but also featured ground-breaking effects from other fields of magic. The publication of this magazine ceased after Annemann's death & copies of it have become collector's items. Effects from the magazine have been published in several books & manuscripts, among them Annemann's Practical Mental Magic. This book is considered a classic in the field of mentalism. It is notable for discussing the billet reading of the medium Bert Reese. Annemann was married twice & had a daughter by his first wife. His personality is the subject of much speculation. Annemann was scheduled to perform his bullet catch indoors for the first time. The performance was to be on the night of January 12, 1942. Two weeks before the performance, he committed suicide. Dorothy Dietrich speculates that a contributing factor to the suicide could have been that his method was not suitable for indoors.

A short part of next clip was shown on David Blaine Beyond Magic 2016 Special together with clip of famous American magician Dorothy Dietrich's Bullet Catch.


Ted Annemann Doing the Bullet Catch Sept 5, 1938, Labor Day weekend.
---
OTHERS
Coulen ( Couleu ) of Lorraine (1500s) Possibly the inventor of the bullet catch. Beaten to death in France by an angry assistant in 1613, with the butt of his own trick pistol. He did the Bullet Catch, catch in his hand.
This is the oldest known reference we could find from the book "The Theatre of Gods judgements wherein is represented the admirable justice of God against all notorious sinners" written by Jean Chassanion in 1581 translated by Thomas Beard (1576-1632) in 1597."It is not long since there was in Lorraine a certaine man called Coulen, that was over much given to this cursed Art: amongst whose tricks this was one to be wondred at; that he would suffer harquebuses or pistols to be shot at him, & catch their bullets in his hand without receiving any hurt: but upon a certain time one of his servants being angry with him, hit him such a knock with a pistol (notwithstanding all his great cunning) that he killed him therewith."


Houdini Article on the BulletCatch for MUM
---
MADAME deLINSKY (1820) magician's female assistant killed when real bullet loaded into chamber by mistake. The wife/assistant of a Polish magician had a routine where she faced a firing squad of six soldiers. In the early 19th century, rifles were loaded by biting open a cartridge, pouring the gunpowder in the barrel, then jamming the rest of the cartridge down the barrel with a ramrod. In the DeLinsky version of the trick, the soldiers were shills, paid & secretly told to bite away the whole bullet & load in a blank. in Germany before a royal court, the fatal incident occurred when one of the riflemen got nervous & reverted to his usual way of loading the gun. When the bullet hit Madame DeLinsky, who was pregnant in the abdomen, several audience members fainted. The Madame died two days later.
---
GIOVANNI deGRISY son of Torrini, supposedly magician Robert-Houdin's mentor; reportedly Torrini fired the gun that killed his son.
---
ARNOLD BUCK (1840) died when a volunteer in secret added nails to the gun barrel before firing at him in Bullet Catch trick attempt. As long as there have been magicians, there have been skeptical audience members who hope to mess up their tricks. Unfortunately, in Buck's case, he picked one such troublemaker as a volunteer to load a bullet into a gun. Along with a bullet, which was a blank, the volunteer dropped some nails into the barrel, then fired. It was fatal for Buck.
---
ADAM EPSTEIN (1869) his wand, used to ram home the balls in the rifle barrel, broke inside the gun; he was killed by wand shards fired in Bullet Catch trick attempt
---
RAOUL CURRAN (1880) magician killed by an audience member who jumped out of his seat & shot him without warning
---
deLINE Jr (1890) his magician father shot him onstage during the Bullet Catch trick
---
MICHAEL HATAL (1899) he failed to switch blank cartridges for the real bullets that killed him
Mon San Francisco Chronicle 30 Oct 1899
---
EDVIN LINDBERG(Germany, killed in 1905)
---
OTTO BLUMENFELD (1906) he failed to switch bullets during the Bullet Catch trick
---
H. T. SARTELL Failed to switch bullets, may have used the bullet catch trick to deliberately commit suicide.
---
THE BLACK WIZARD OF THE WEST (1922) His wife purposely fired live bullets.
---
| | |
| --- | --- |
| RALF BIALLA (1975) In the 1950s the German magician performed the bullet catch, for a salary of 2.000 DM a day. He wore bullet-proof glasses, steel gloves on his hands with which he covered parts of his face, & his front teeth were made of steel. A .22 rifle was fired, & the bullet had to go through three glass panes before Bialla caught it with his teeth. He was seriously wounded nine times, but survived. He was portrayed in the 1972 documentary film "Wer schieŖt auf Ralf Bialla?". An eccentric magician, who was billed as The Living Target. He had performed the trick over 3,000 times, a feat he attributed not only to his skill but to a set of steel teeth he had beneath his dentures. In Bialla's version of the trick, the bullet was fired through three panes of glass then into his mouth via a funnel he made with his hands, clad in steel gloves. Reportedly, one of the long-term effects of catching all those bullets was that he had problems that caused him to black out. After recovering from an injury in 1975, he went for a stroll in the mountains. While admiring scenery over a cliff, he blacked out & fell to his death, supposedly because of constant dizzyness caused by the injuries from bullet catching act. As with many who do this it could have been a suicide. | |
---
DOC CONRAD (1977) killed during practice of the Russian Roulette trick, a version of the Bullet Catch trick
---
FERNANDO TEJADA (1988) Magic Marvo Killed onstage during a performance of the Bullet Catch trick in Columbia, Sourh America. "Professor Marvo" After successfuly performing the Bullet Catch, a Goldminer named Marco Asprellain leapt up on stage, and thinking it was for real, fired a live bullet at Marvo's mouth yelling "Catch This!".
---
1992 Nellie New Zealand
---
ZAMBA POWERS (Kofi Brugah) August, 2007, Killed onstage during a performance. Daily Graphic, Ghana http://www.ghanaweb.com/GhanaHomePage/NewsArchive/Magical-show-turns-bloody-125761 Magical show turns bloody A Togolese who pitted his magic against gunpowder paid with his life at a magical show which turned bloody at Adukrom in the Eastern Region on Thursday night. The magician, Kofi Brugah, alias Zamba Powers, arrived from Togo barely two weeks ago and mesmerised audiences at Asamankese & other villages, after securing permits to put up shows in the Region. Last Thursday he was at it again & after a sensational start, earning him wild applause for conjuring a number of items, including sweets & money, for distribution to the audience, Brugah claimed he had magical powers to withstand gunshots. He produced a rifle & challenged a volunteer to step forward. After a tense moment of silence, a gentleman stepped forward & Brugah handed him the gun, stood upright and asked the volunteer to press the trigger. Boom! There lay Brugah in a pool of blood screaming & pleading to be saved. As the crowd scattered in utter shock & panic, the man who had pulled the trigger quickly disappeared. With the help of others, Brugah's assistant, Kwabla Ali, led a team to carry the fallen magician to the Adukrom Health Centre where he was pronounced dead on arrival & the corpse sent to the Police Hospital morgue for autopsy. Sources close to the police said Kwabla Ali, 22, who assisted Brugah in his magical displays, was in police custody, while the search continued for the arrest of the landlord of the house where the incident occurred & the alleged killer, both of whom are at large. The source said when those conveying Brugah to the health centre were told that he was dead, they dumped the body there & took to their heels. Kwabla Ali told the Daily Graphic that he did not know who shot Brugah because he was still at the gate collecting fees from those entering to watch the show. He said when he heard the gunshot, he rushed into the house, only to see Brugah in a pool of blood.
---
Click here for a list of performers injured by the Bullet Catch
---

The bullet catch trick has a long dark history, mostly done by leading performers.
---
Things to do

Learn about magic's most dangerous stunt | Website of Scranton Fun Magical Mystery Entertainer Dick Brookz | Things for bus groups to do. | Book a room in any city in the world | Various informative links | Take a cruise | Guide to cruises | One of the world's leading famous female magicians | Poconos online magazine of things to do | Where to go on a Honeymoon | Discounts for Honeymoons, Caesars, etc | Houdini Information World's only Museum entirely devoted to Houdini | Site dedicated to the Houdini Seance | List of magic events | New site for magic auctions | Calendar of magic happenings | Dedicated to NY's Magic Towne House. | Travel the USA | Auction site dedicated to magic | mystery bus ride | mystery bus tour | mystery bus trip | Visit with a leading mystery entertainer | Spend a Mystery Night out | originalhoudiniseance in NY | petfoodrecipes | Boating in the Poconos | Pocono Mountains Directory | Pocono Mountain Index | Coupons for Pocono Mountains attractions | Discounts in the Poconos | Poconos Leading Guide | Getaway to the Pocono Mountains | Getaways in the Pocono Mountain Region | Discount Honeymoons in the Pocono Mountains | Honeymoon int the Poconos Mountain Region | Comprehensive directory of Pocono Mountain NE PA Hotels | Restaurants in the Mountains of the Poconos | Pocono Honeymoon Information | The first auction site in Canada | http://Everything important to do in Scranton PA | Find & Reserve throughout the world | Comprehensive listing of magic events throughout the world | Haunted events throughout the world that run most of the year. |

Web Sites of Interest

bulletcatch, magic's most dangerous | busgroups | CityDirectories | crosslinkz | Cruise Fun Guide | Cruise Line Guide | Dorothy Dietrich, Leading famous American female magician | Guest Magazine | Honeymoon Discounts | Houdini Museum Archives HoudiniShowspot | Houdini Seance | Magic Calendar | Magicians Auction | Magicians Calendar | NY's Magic Towne House | MagicUSA Travel reservations | Magic USA auctions | Mystery Bus Ride | Mystery Bus Tour | Mystery Bus Trip | Mystery Entertainer | Mystery Nights | Original Houdini Seance in NY | Pet Food Recipes | Pocono Boating | Pocono.net | Pocono.org | Pocono Coupons | Pocono Discounts | Pocono Fun Guide | Pocono Getaway | Pocono Getaways | Pocono Honeymoon | Pocono Honeymoons | Pocono Hotels | Pocono Restaurants | Pocono Rooms | Poconos Honeymoon | PolarAuctions | Psychic Evening | Psychic Night | Psychic Theater | Psychic Theatre | Anime site | Scranton, PA | Supernormalist | Where To Find Travel | Comprehensive listing of magic events throughout the world | Haunted events throughout the world that run most of the year. |

© 1993 - by magicusa. Except for reviews, no part of any of this document may be reproduced or quoted in any form, without written permission by the authors. This does not include a limed amount of quotes that are credited. The graphics have been retouched, computer enhanced & resized by the authors. Here is our email address. We are more likely to get it if you put the subject in Caps.



Address: 1433 N. Main Ave., Scranton, Pennsylvania (PA), 18508